ISOCS / S3 Spring School 2010
May 10, 2010
@
14:00
–
May 14, 2010
@
13:00
CEST
MOX Semiconductors Gas Sensor Technology – From basics to application
10-14 May 2010 – Rimini, Italy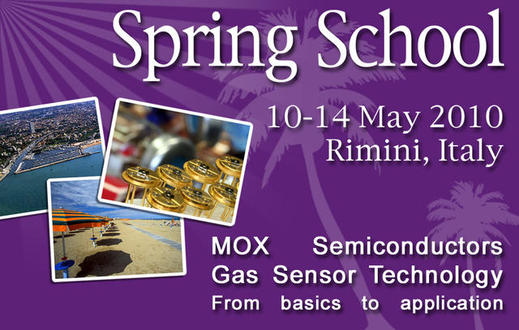 Registration is closed!
The venue is the Hotel Sporting in Rimini.
The S3 Spring School 2010 will cover topics including:
Chemical Sensing Mechanisms (Modelling)
Synthesis of Materials and Deposition
Electrical Characterization (Operation)
Spectroscopic Investigation (Understanding)
Driving Electronics and System Aspects
Application Issues
Speakers:
Prof. Elisabetta Comini, CNR-IDASC SENSOR Lab, Italy
Prof. Guido Faglia, CNR-IDASC SENSOR Lab, Italy
Prof. Udo Weimar, University of Tübingen, Germany
Prof. Sanjay Mathur, University of Cologne, Germany
Dr. Gerhard Müller, EADS, Germany
Prof. J. R. Morante, IREC & University of Barcelona, Spain
Prof. Alexander Gaskov, Moscow State University, Russia
Dr. Marina Rumyantseva, Moscow State University, Russia
Prof. Alexey Vasiliev, Kurchatov Institute, Russia
Who should attend?
The S3 School will mediate knowledge over the entire spectrum of the semiconductor gas sensor technology. This activity particularly addresses younger researchers and doctoral students and aims at ensuring comparable levels of technological and scientific skills.